Teach kids how to play dominoes for a fun, screen-free game that teaches counting and strategy. It's quick and will become a family favorite!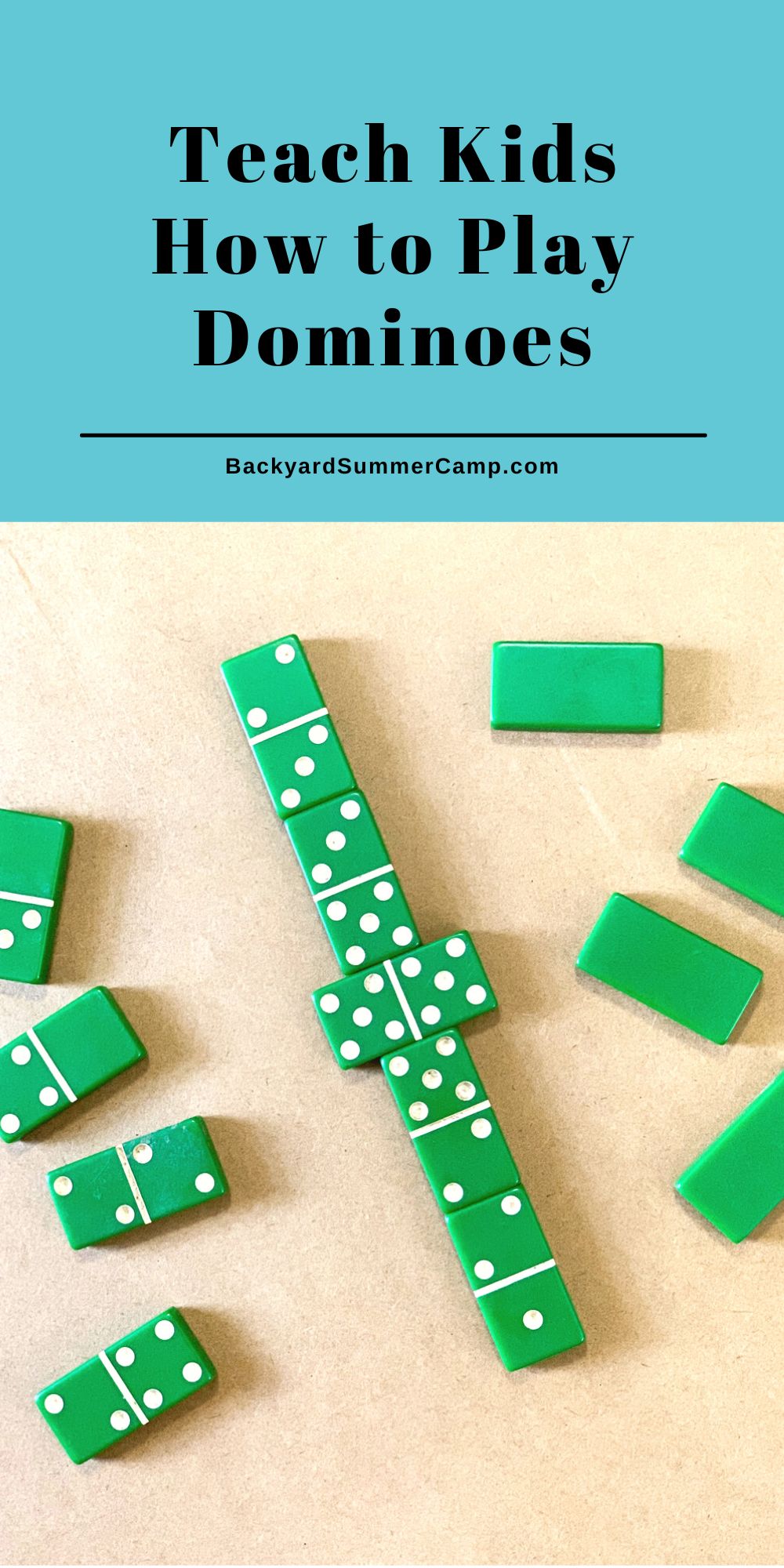 Disclosure: As an Amazon Associates participant we earn from qualifying purchases.
Dominoes is a good all-ages game that kids can play with 2 to 4 players. Kids as young as 4 or 5 can learn how to play with an adult or older child helping.
Dominoes teaches some great skills, including:
counting and matching
taking turns
working in teams (if you're playing in 2 pairs)
planning ahead and simple strategy
If you're playing with 2 people, players simply take turns. If you're playing with 4 people, you can either choose to play in teams (your partner is the person across from you) or each person can play on their own.
We've included simple, kid-friendly rules for how to play dominoes below. Once you've played a few games, you may want to come up with some of your own rules. (For example, the blank tile is usually 0 and can only be matched with another 0; in some games, it is used as a wild card that can be matched with any domino.)
The version we're teaching here is commonly called Double Sixes.
Become a Happy Camper!
Subscribe to Backyard Summer Camp emails & get a free printable.
How to play dominoes
Dominoes pieces
To play the game, all you need is a set of dominoes. A traditional set includes 28 pieces. You can purchase a simple black-and-white set or one that's more kid-friendly and intended for younger players.
The dots, called pips, are numbered 0 through 6.
Note: Dominoes for preschoolers may just have pictures. If you're playing with a set without numbers, you'll need to modify the rules. You may just want to have a winner for each round (without scores) and play a certain number of rounds to get the final winner.
Dominoes setup
To set up for a game of dominoes, turn all the tiles face down and shuffle them around the table with your hands. Then, each player should take turns drawing.
If you're playing with 2 people, draw until everyone has 7 dominoes; if you're playing with 3 or 4 people, draw 5 each. Keep your tiles hidden from the other players. You can line them up facing you or leave them face down. If there are extra tiles, leave them face down for a draw pile.
Each player looks at their tiles and whoever has the biggest double (called the heaviest) goes first. If nobody has a double, whoever has the biggest number (by adding up both sides) goes first. That player turns their tile face up in the center of the table. Gameplay goes clockwise around the table.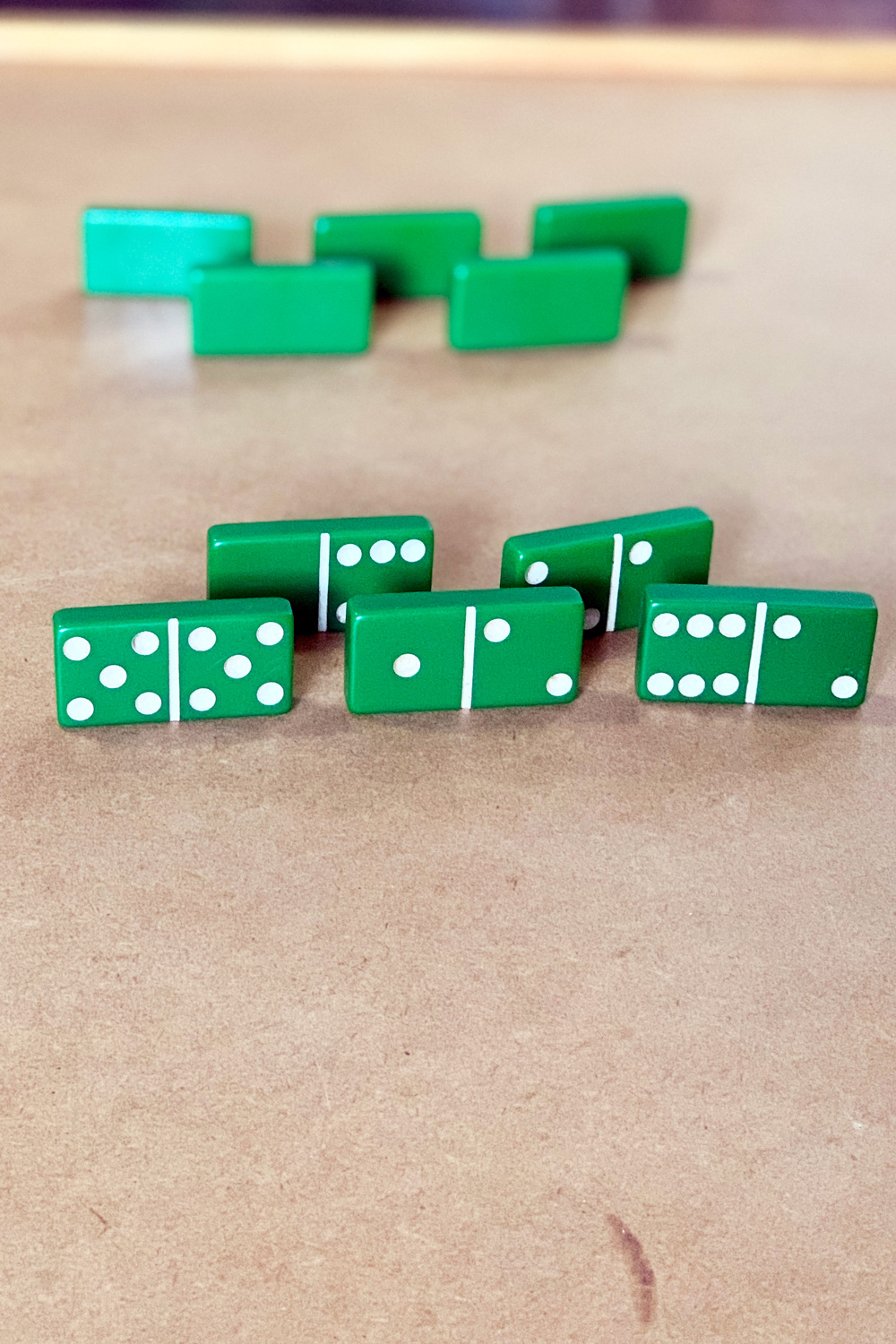 Dominoes rules
On each turn, the player should look at the tiles in their hand to find one that has a matching number of pips on at least one side. Place that piece with the matching sides together on the table.
For singles, the dominoes will form a long line going across the table in both directions. Doubles are placed perpendicular to the main line, creating a cross. From there, pieces can be placed at any of the ends.
If a player does not have a domino that they can play, take one from the draw pile. When the draw pile is empty, if you cannot play then your turn is simply skipped.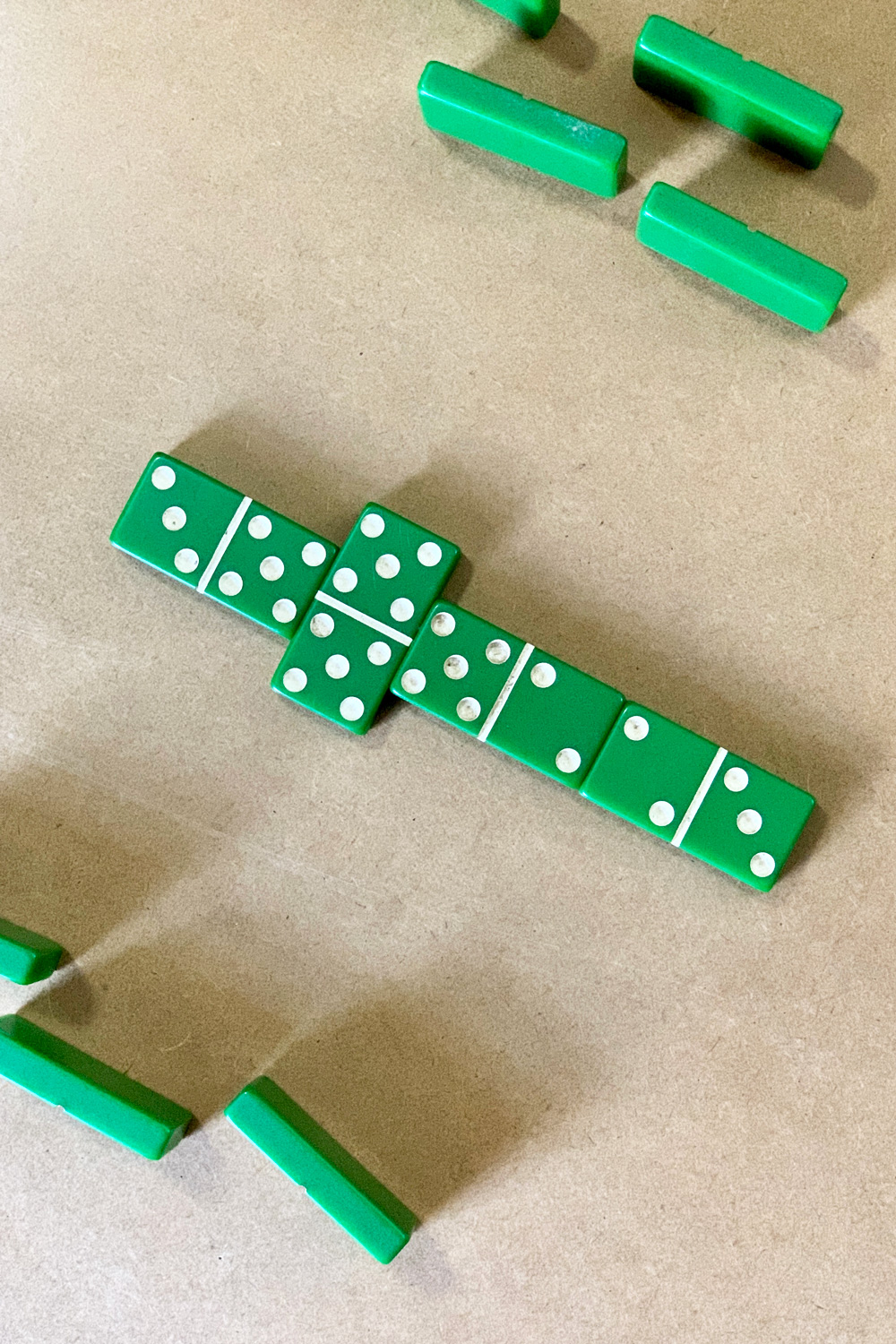 How to win at dominoes
Keep score with a pencil and paper. A player earns 5 points when the end dominoes add up to a multiple of 5 (all other numbers don't score).
Gameplay goes clockwise around the table until one person is out of dominoes. That person is the winner of the round. Add up the pips on the other players' remaining dominoes, round to the nearest 5, and add it to the winner's score.
Shuffle and play a new round until someone reaches 100 points. That person is the final winner!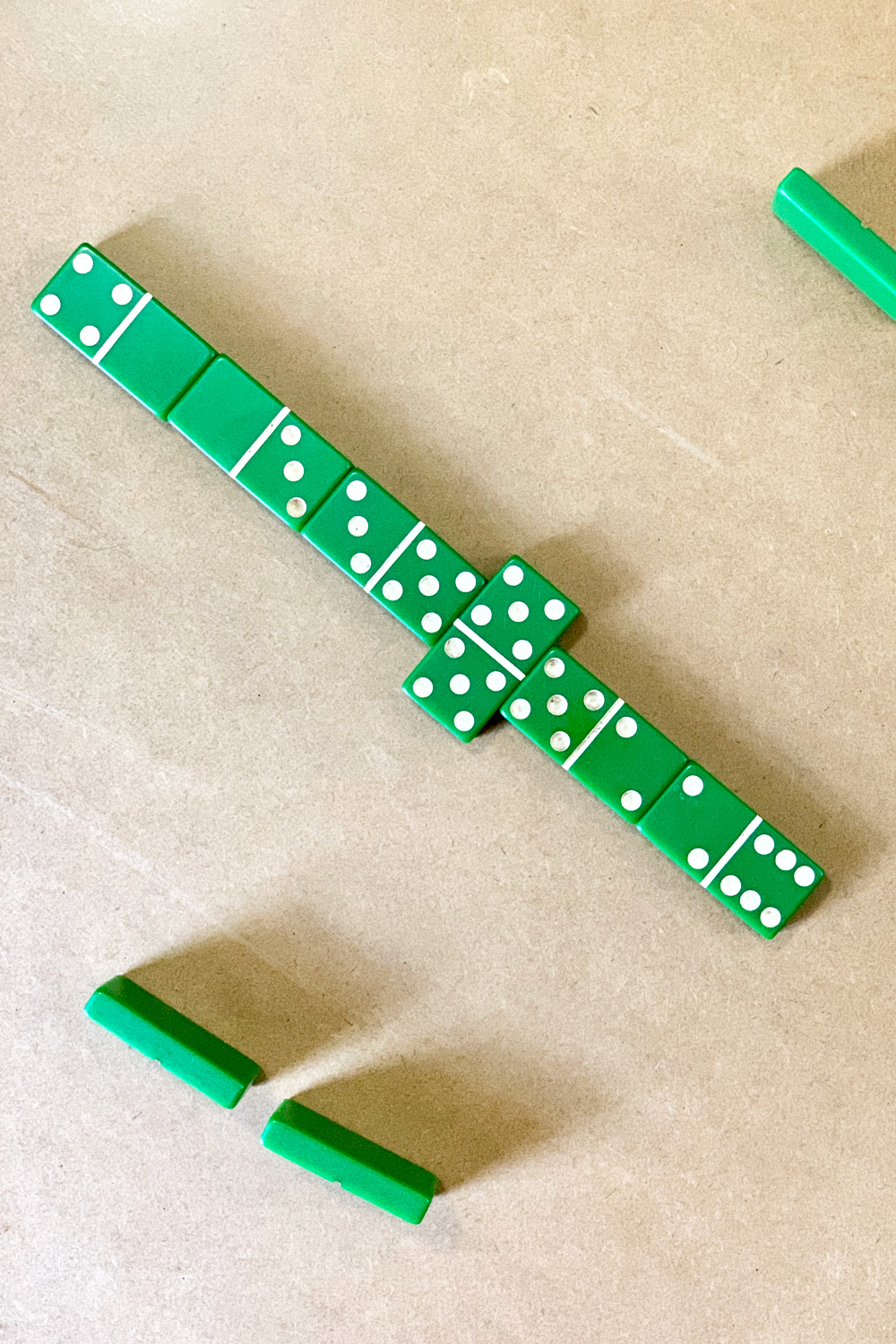 Dominoes strategy tips
Playing dominoes can feel a little bit about luck and drawing the right tiles. There is a bit of strategy, though. Here are some tips:
Play doubles early in the game. This gives you more places to play your tiles later.
Use the bigger numbers first when you can. The tiles left in your hand if you don't win will be added to the winner's score.
Keep an eye on when other players draw tiles. If you can guess which numbers they don't have in their hand, you can play those to force them into drawing more.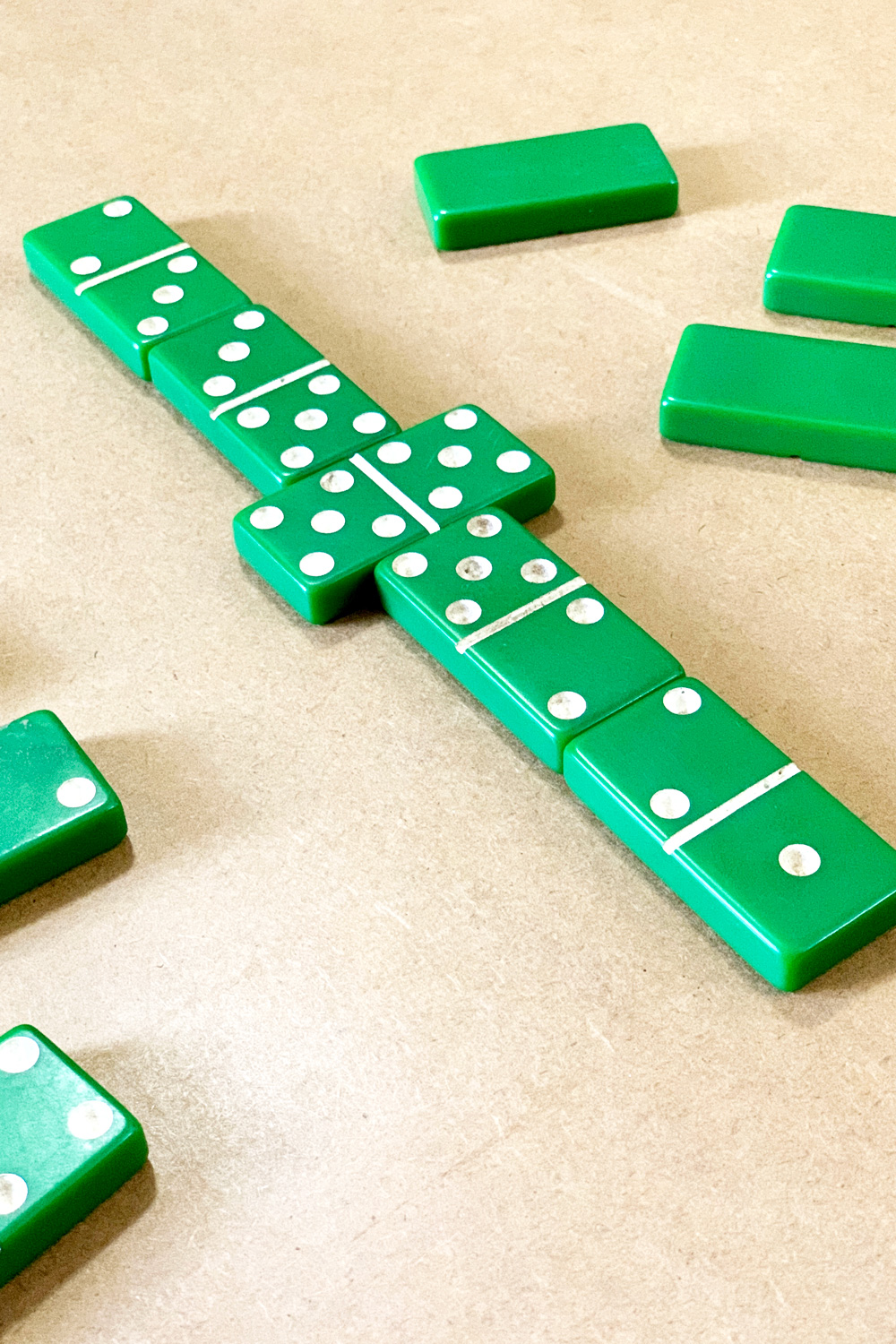 Although this game is simple, it can also be quite a challenge! Once you teach kids how to play dominoes, it might just become a new favorite for family game nights.
More fun ideas from Backyard Summer Camp: