Play some of these jump rope games for the perfect outdoor activity for one, 2, or a whole group of kids to get moving in the summertime.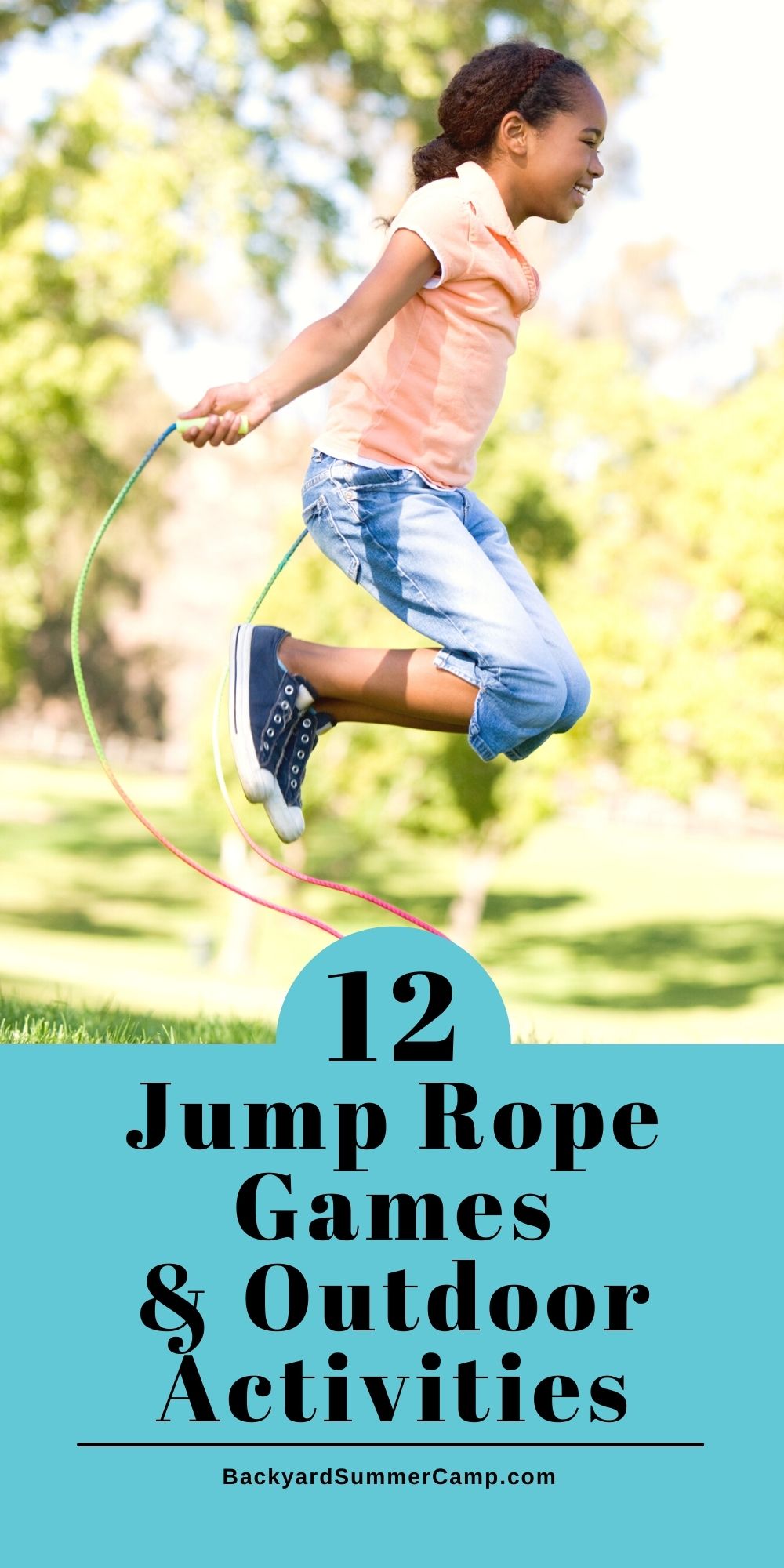 Disclosure: As an Amazon Associates participant we earn from qualifying purchases.
Learning how to jump rope is a great physical activity to get kids up and moving. It doesn't require much to get started and there are games and activities for one, 2, or more kids. You can also incorporate some of these ideas as part of a parent and child fitness routine.
Kids will also enjoy learning classic jump rope songs. They're perfect for young jumpers to sing while practicing simple jumps.
Just like pogo stick games, jumping rope has tons of benefits for kids and adults too!
Cardio workout and exercising muscles
Hand-eye coordination
Balance and agility
Self-esteem as you improve
We've rounded up some simple jump rope games below. No matter how many kids you have playing together, there are a few activities they can do!
How to choose a jump rope
If you're shopping for a jump rope, it's important to pick one that's the right size for your child.
As a general rule, solo jumpers need a rope that is about 3 feet longer than their height. If you can test out the jump rope before purchasing, have your child hold it as if they're going to jump. Standing on the rope, the ends should come up to their armpits, not including the handles.
If a jump rope is just a bit too long, you can tie a knot on both sides right next to the handles. This will shorten it without making it harder to jump. Some jump ropes are adjustable or have knots within the handles.
If you want a long jump rope for group games, look for one that's at least 15 to 20 feet long.
Become a Happy Camper!
Subscribe to Backyard Summer Camp emails & get a free sample lesson plan.
Jump rope games for one
These games and activities are perfect for a child to play solo.
Counting
The simplest game for a new jump rope user is to count how many times you can jump without missing. Keep track and try to beat your number each time.
Do a trick
Once you've mastered the basics of jumping rope, try doing different tricks while jumping! Some fun ideas are to hop on one foot, criss-cross your feet, cross your arms, or pull your knees up high.
Spelling
Add a bit of learning fun for little kids by spelling your name or any word one letter at a time as you jump.
Jump and jog
Take your jump rope for a quick walk or jog. Jump and move forward following a path around your backyard or down a sidewalk.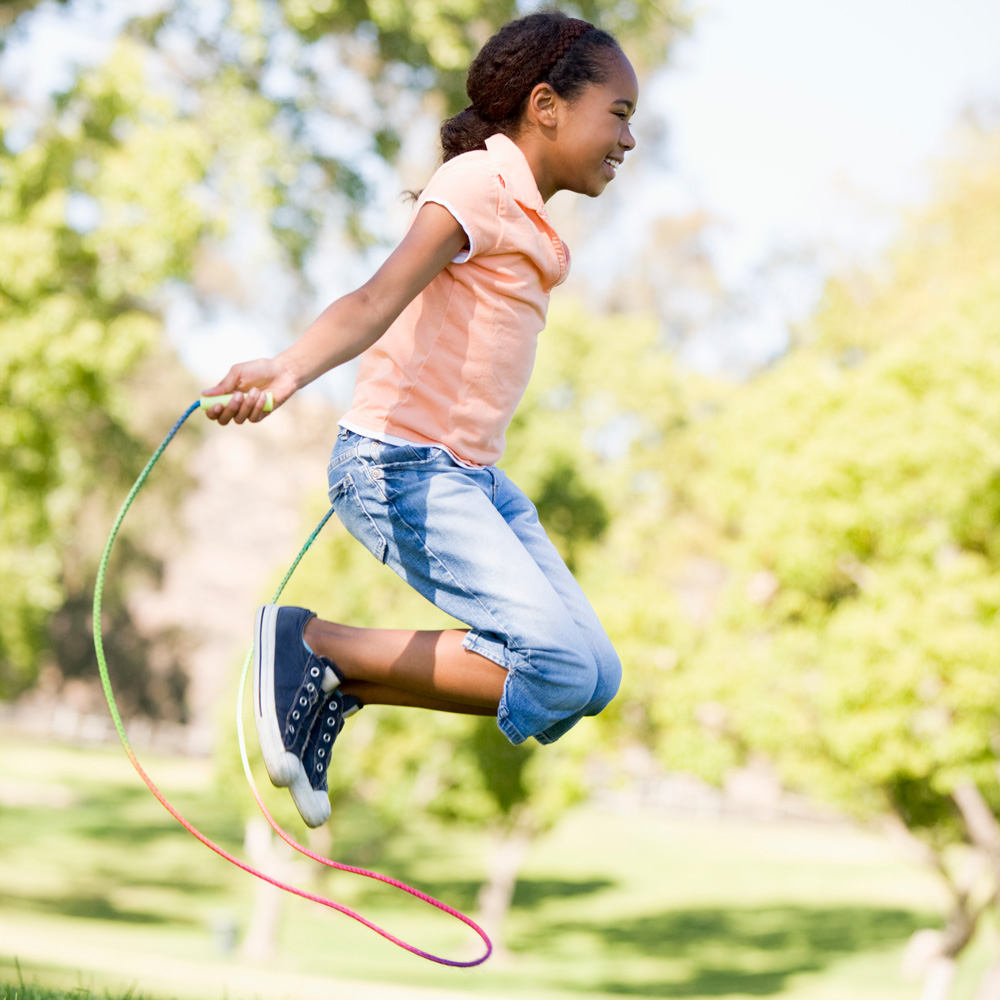 Jump rope games for 2
If you need a few jump rope activities for 2 kids playing together, these are tons of fun.
Snake
One person holds an end of the jump rope on the ground and moves it back and forth in a snakey squiggle. The other person tries to jump over it. When the jumper misses, it's time to switch.
War
Have a friendly battle between 2 jumpers, each with their own rope. Both people jump as they count out loud together. Whoever jumps the most times without missing wins.
Pairs
Use one rope for 2 people. One person holds the rope and jumps as they would alone. The other person jumps in and has to jump at the same time. The person holding the rope can change speeds to make it more challenging.
Alphabet soup
Have 2 people turn a single long rope. As each person jumps in, they must name a food starting with a different letter of the alphabet. To make it a bigger challenge for older kids, have them repeat all the previous foods before adding their own.
Jump rope games for 3 or more
Grab a longer jump rope or a regular rope for each person to play these fun jump rope games with a group of kids together.
In and out
For this basic activity, 2 players start turning a single long jump rope. Everyone else takes a turn jumping in and then back out.
Double Dutch
To do this advanced activity, 2 players hold and turn 2 jump ropes in opposite directions. Everyone else takes a turn jumping in and then back out. You can also have multiple jumpers at the same time or have each person do a trick.
Relay race
Set up a relay race with several jump ropes spread out across the course. At each jump rope, the person must do a certain trick or jump a set number of times before running to the next person.
Simon says
Each child needs their own rope to play Simon says. One person is Simon and tells everyone else what to do. If they start by saying "Simon says…" then everyone else has to do the trick. If Simon doesn't start with that, everyone who does the trick anyway is out.
More fun ideas from Backyard Summer Camp: