These popular jump rope songs are fun, simple rhymes that help kids learn to keep rhythm and count. Skipping rope is a great way to get kids moving!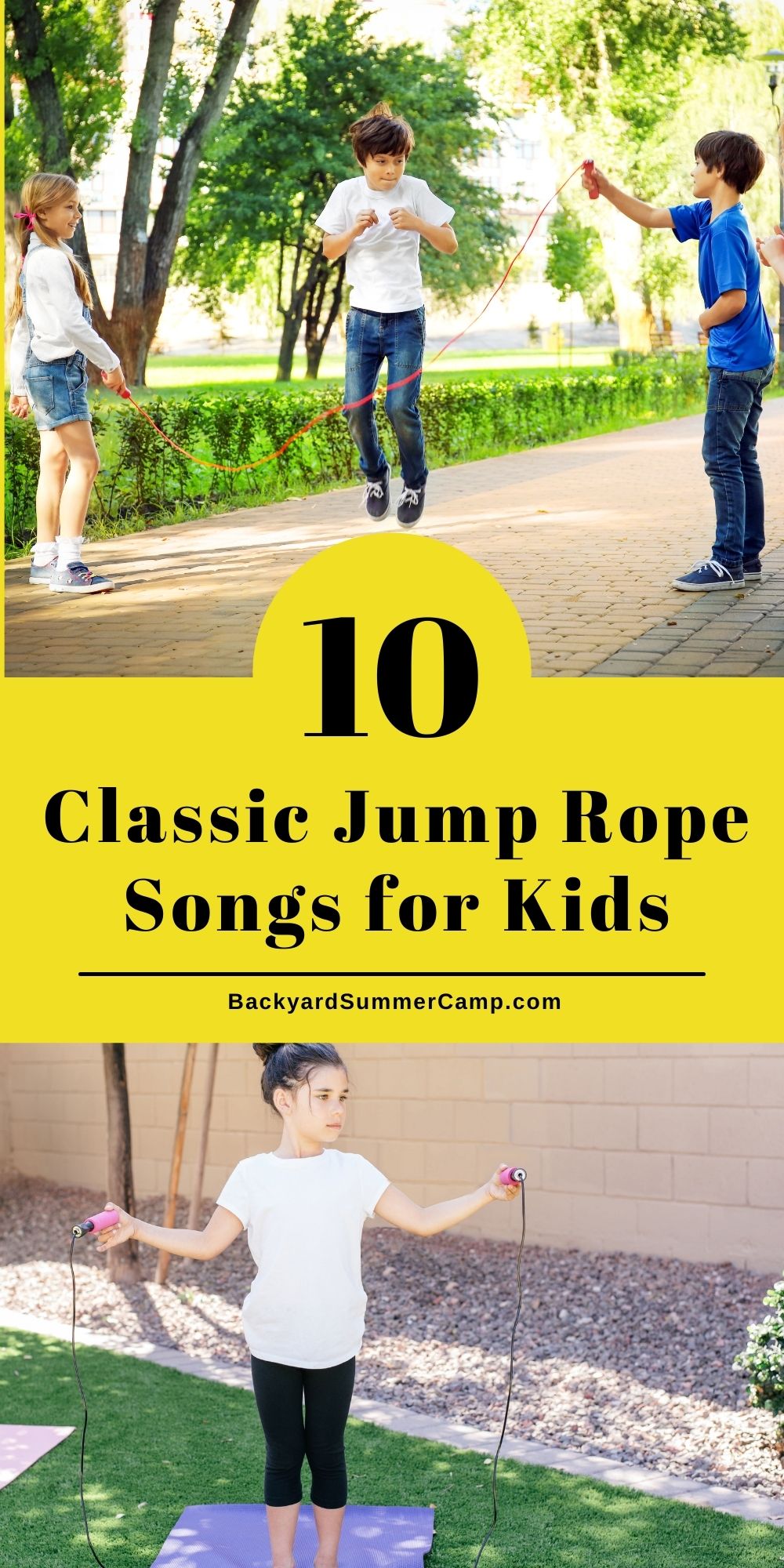 Disclosure: As an Amazon Associates participant we earn from qualifying purchases.
Jumping rope is a classic childhood activity and a common playground game that is great exercise. To skip rope with a group, you need one person on each end of the rope to turn it and a third person to jump. No matter how many kids are playing, it's best to take turns so everyone gets a chance to jump.
Jump rope songs have been passed down from generation to generation and might be a bit different depending on where you live. Below you'll find ten different rhyming songs that are popular for kids to jump rope with.
A lot of traditional jump rope songs are about kissing or naming classmates, which can be embarrassing for young kids. The ones we collected below are fun for all ages and genders.
Although most jump rope rhymes are intended for a group, many of these can be done with a solo jumper too.
Be sure to check out our list of jump rope games for even more fun activity ideas!
Become a Happy Camper!
Subscribe to Backyard Summer Camp emails & get a free printable.
Teddy Bear
"Teddy bear, teddy bear, turn around. Teddy bear, teddy bear, touch the ground."
As kids sing the song, the person jumping is supposed to try and do each of the activities that the teddy bear is doing.
Miss Mary Mack
"Miss Mary Mack, Mack, Mack; all dressed in black, black, black."
The song ends with counting how many times the jumper can jump without missing.
Mabel, Mabel
"Mabel, Mabel set the table, just as fast as you are able."
All of the kids sing the main part of the song. When they get to the end, the person who is jumping should name one item on the table each time they jump. If they miss the rope or can't think of another item, they are out.
Five Little Monkeys
"Five little monkeys jumping on the bed, one fell off and bumped his head."
Start the rope moving with five kids jumping. As each monkey falls off of the bed, that person should jump away from the rope without anyone else stopping.
Bubble gum
"Bubble gum, bubble gum in a dish; how many pieces do you wish?"
After everyone sings the first part of the song, they count how many times the jumper can jump without missing.
A sailor went to sea
"A sailor went to sea, sea, sea to see what he could see, see, see."
This is just a simple song with a rhythm pattern to jump to.
The Lady with the Alligator Purse
"Miss Lucy had a turtle, she named him Tiny Tim. She put him in the bathtub to see if he could swim."
One child starts jumping at the beginning. As each character is added to the story, another person jumps into the moving rope. They jump back out as the characters leave.
Birthday
"Apples, peaches, pears, and plums; tell me when your birthday comes."
The group of kids sings the first part of the song, then starts naming the months of the year in order. As each child's birthday month is announced, they jump into and back out of the rope.
Jump rope
"Jump rope, jump rope, want to play? Jump rope, jump rope, what do you say?"
After singing the beginning of this song, the jumper counts how many times they can jump in a row without missing.
Hot Peppers
"Red hot peppers, speed up the jump rope."
As the kids sing the song, the ones on the end turning the rope start moving it faster and faster. The jumper tries to keep up with the speed and counts by tens. If they get to 100, they jump out and someone else jumps in.
We hope you enjoy this collection of jump rope songs and rhymes for kids. This simple toy can provide hours of fun and movement. Even if you don't have one, substitute a long rope. To make it easier to hold, tie each end in a loop or make a "handle" from duct tape that's easier to grip.
More fun ideas from Backyard Summer Camp: