Turn empty milk jugs and milk cartons into craft supplies for an easy recycled craft project that uses something you already have at home.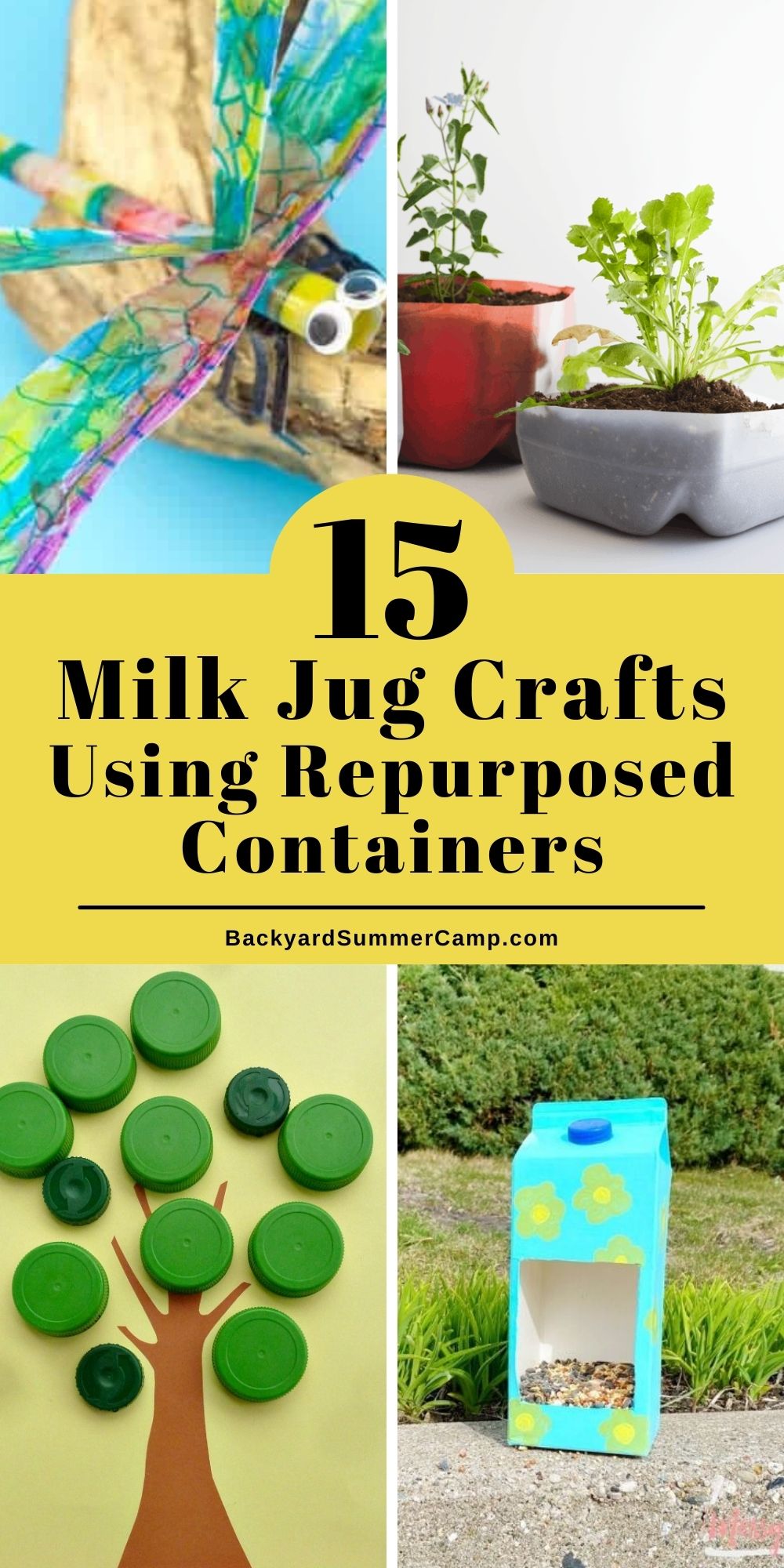 Use clean, empty containers to make these adorable milk jug crafts that give new life to trash and recyclable materials.
All of these easy craft ideas start with a plastic gallon jug, half-gallon jug, or paper carton from milk, juice, water, or similar. Most use the container itself, but a few crafts use the lid or plastic pull-tab. Make sure you wash it out and dry it thoroughly before crafting.
You may be able to use laundry detergent containers for some of these crafts too. Make sure these containers are clean and consider whether the finished craft will still smell strongly of soap.
Disclosure: As an Amazon Associates participant we earn from qualifying purchases.
Become a Happy Camper!
Subscribe to Backyard Summer Camp emails & get a free printable.
Plastic container craft ideas
Milk jug planters
Start a summer garden indoors on a window sill with these colorful planters from Cupcakes and Cutlery. They're just the right size to grow herbs and flowers, and even larger plants can be started in a small container and then transplanted when they outgrow it. What a fun way to grow something green and upcycle at the same time!
Letter sound rings
Preschoolers will have tons of fun making their own letter sound rings, via Books and Giggles. This is a smart way to repurpose the pull tab from a container and sneak in some learning time too. You could have your kids learn each letter one at a time, or practice spelling out their name and sight words.
Milk jug owl
These plastic container owls are a hoot, pun intended! See how Kids Craft by Three Sisters turns an empty gallon jug into a friendly owl with big eyes. This project has a lot of cutting and gluing, so younger kids will need help from an adult, but the results are really neat.
Piggy bank
Learning about money is more fun with a cute piggy bank. Make this one from Thrifty Fun using a milk jug and your kids will love depositing their change. You need just a few craft supplies to make this project. As a bonus, your piggy bank has a built-in handle for easy carrying when it gets full.
Plastic jug dragonfly
This dragonfly craft would be a cute activity for learning about bugs or nature. You could even make a few with your kids to display in the garden. Learn how to make them at Kids' Craft Room.
Plastic lid ladybugs
Turn the plastic lids from a variety of containers into cute ladybugs with this idea from Crafts by Amanda. You can make them in any color and of course, they look so cute with wiggly eyes.
Pencil storage
Get your craft area organized by making a bunch of these cute pencil jar storage containers from Red Ted Art. They're made from small square empty cartons and each one is painted to look like a woodland creature.
Whale pitcher
If you have a water table, you're going to want to make this whale pitcher, via Crafty Morning. A big smiling whale is perfect for scooping up and pouring water. Your kids can also scoop small items, like fish or shells, for a fun water table activity.
Backyard bird feeder
Backyard bird watching is a fun summer activity, and you can attract lots of birds by placing a simple bird feeder in your backyard. Make a bird feeder from an empty half-gallon milk carton with easy instructions from Ideas for the Home by Kenarry.
Butterfly suncatcher
The thin, semi-transparent plastic gallon jugs for milk and water are perfect for making suncatchers. A Little Pinch of Perfect cut the pieces into butterfly shapes and colored them to be bright and colorful in a sunny window.
Watering can
Turning an empty gallon water jug into a watering can might not seem like much of a stretch. But this idea from One Creative Mommy is the perfect trick to let young kids help water plants without flooding the area and overwatering!
Bottle catcher
Lakeshore Learning has a simple milk jug craft that makes a fun game for kids. Make a pair of bottle catchers and send the kids outdoors to toss a ball back and forth. Hours of fun!
Bottle cap game
Save the plastic bottle cap lid from milk or water jugs to make this bottle cap game at Apple Green Cottage. It's a craft project and a memory game all in one. Little ones can practice finding the hiddle apples, counting, and fine motor skills.
Fairy house
Start a fairy garden in your backyard this summer and build a few little houses, like STL Motherhood did. a fairy house can also double as an indoor playhouse for small figures and dolls. Think small and use items like shells and acorn caps for accessories.
Bubble wands
Make a batch of homemade bubbles and cut out your own custom bubble wands from a plastic container. Milk jugs are a great surface for drawing with markers to decorate. See how at Crafty Journal.
More fun ideas from Backyard Summer Camp: